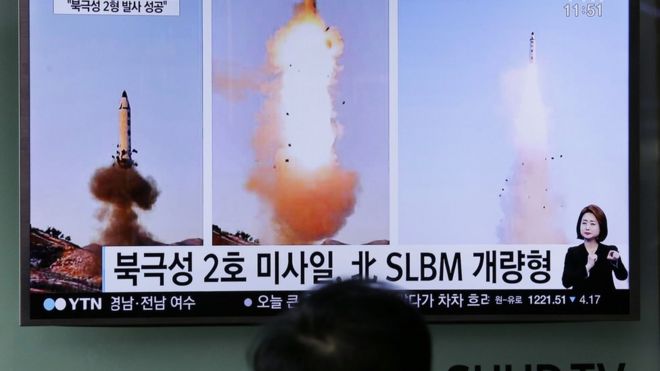 Image captionNorth Korea published images of the missile launch, which it described as successful

North Korea says it "successfully" test-fired a ballistic missile on Sunday in a launch supervised by leader Kim Jong-un.

State news agency KCNA described the device, fired into the Sea of Japan, as a "surface-to-surface medium-to-long-range ballistic missile".

South Korea's defence ministry called it an armed provocation to test the response of US President Donald Trump.

North Korea's latest ballistic missile test has been widely condemned.
'Great satisfaction'
KCNA said the missile, named the Pukguksong-2, was a "new type strategic weapon system".
It said the missile used a solid-fuel engine, which gives ballistic missiles greater range and means they can be readied for launch faster than liquid-fuel missiles.
It was a new version of a missile
test-fired from a submarine in August 2016
and was fired in a high arc in consideration of neighbouring countries, the report said.
Kim Jong-un "expressed great satisfaction" over the test launch, which added "to the tremendous might of the country", the state news agency said.
Credit to BBC