Mr. President, may be more gentle with Israel would help!!!
As reported first yesterday, the North East in general, and NYC in particular, are about to be hit with a "historic" blizzard that may bring over 24 inches inches of snow in various places: a total accumulation which would make the "Blizzard of 2015" one of the top 5 worst snowstorms in the history of the city, and it the total snowfall rises over 27 inches, it would be the worst snowstorm in NYC history.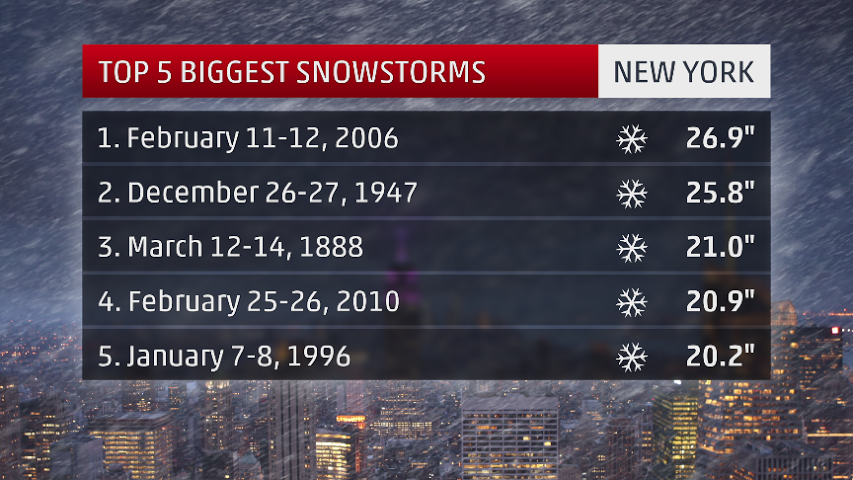 The Boston snowsfall will need an inch more to claim the same "historic" title: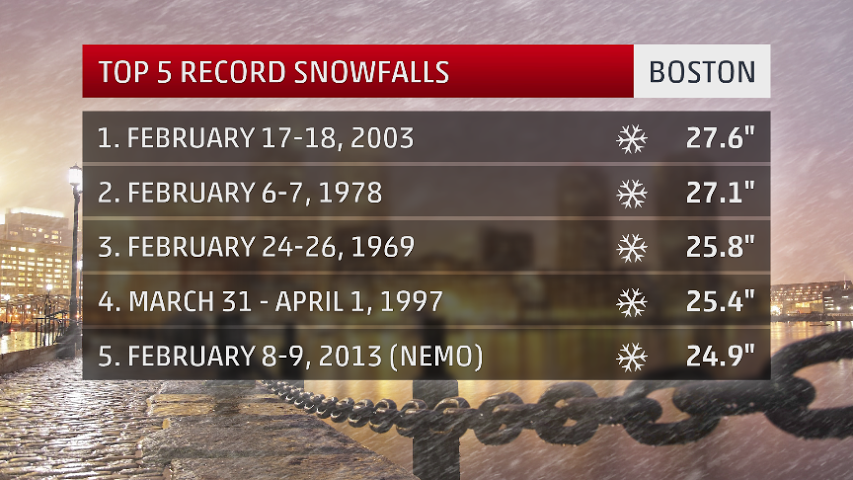 So while the world awaits for Winter Storm Juno to slame the eastern searbord and demolish Q1 GDP (because after last year's harsh weather, GDP seasonal adjustments are clearly still unaware of this thing cold snow and/or cold weather in the winter), here is the latest outlook on NYC's atmospheric conditions from the National Weather Service:
CRIPPLING AND POTENTIALLY HISTORIC BLIZZARD TO IMPACT THE AREA FROM LATE TODAY INTO TUESDAY...

...BLIZZARD WARNING REMAINS IN EFFECT FROM 1 PM THIS AFTERNOON TO MIDNIGHT EST TUESDAY NIGHT...

LOCATIONS...NEW YORK CITY AND SURROUNDING IMMEDIATE SUBURBS... LONG ISLAND...AND MOST OF SOUTHERN CONNECTICUT.

HAZARD TYPES...HEAVY SNOW AND BLOWING SNOW...WITH BLIZZARD CONDITIONS.

ACCUMULATIONS...SNOW ACCUMULATION OF 18 TO 24 INCHES...WITH LOCALLY HIGHER AMOUNTS POSSIBLE. SNOWFALL RATES OF 2 TO 4 INCHES PER HOUR EXPECTED LATE TONIGHT INTO TUESDAY MORNING.

WINDS...NORTH 20 TO 30 MPH WITH GUSTS 45 TO 55 MPH....STRONGEST ACROSS EASTERN LONG ISLAND.

VISIBILITIES...ONE QUARTER MILE OR LESS AT TIMES.

TEMPERATURES...IN THE LOWER 20S.

TIMING...LIGHT SNOW WILL BEGIN THIS MORNING...WITH ACCUMULATIONS OF 1 TO 3 INCHES POSSIBLE BY SUNSET. SNOW WILL PICK UP IN INTENSITY MONDAY EVENING...WITH THE HEAVIEST SNOW AND STRONGEST WINDS FROM ABOUT MIDNIGHT INTO TUESDAY AFTERNOON.

IMPACTS...LIFE-THREATENING CONDITIONS AND EXTREMELY DANGEROUS TRAVEL DUE TO HEAVY SNOWFALL AND STRONG WINDS...WITH WHITEOUT CONDITIONS. MANY ROADS MAY BECOME IMPASSABLE. STRONG WINDS MAY DOWN POWER LINES AND TREE LIMBS.

PRECAUTIONARY/PREPAREDNESS ACTIONS...




A BLIZZARD WARNING MEANS SEVERE WINTER WEATHER CONDITIONS ARE EXPECTED OR OCCURRING. FALLING AND BLOWING SNOW WITH STRONG WINDS AND POOR VISIBILITIES WILL LEAD TO WHITEOUT CONDITIONS...MAKING TRAVEL EXTREMELY DANGEROUS. DO NOT TRAVEL. IF YOU MUST TRAVEL... HAVE A WINTER SURVIVAL KIT WITH YOU. IF YOU GET STRANDED...STAY WITH YOUR VEHICLE.




ALL UNNECESSARY TRAVEL IS DISCOURAGED BEGINNING MONDAY AFTERNOON...TO ALLOW PEOPLE ALREADY ON THE ROAD TO SAFELY REACH THEIR DESTINATIONS BEFORE THE HEAVY SNOW BEGINS...AND TO ALLOW SNOW REMOVAL EQUIPMENT TO BEGIN TO CLEAR ROADS.
The latest from the Weather Channel:
At least 28 million people are in the zone of potential blizzard conditions, and millions more will see enough snow to complicate travel.




All preparations should be made by early this afternoon for this potentially historic winter storm. Do not proceed with any travel plans in the affected areas late Monday and Tuesday or you could put yourself in great danger. Prepare for power outages both during and in the days after the storm.
Those flying in or out of the region are, well, not flying in or out.
FLIGHTAWARE: ALMOST 50% FLIGHTS CANCELLED TODAY IN NY-AREA