The Nazis drew up the "basic plan" for the European Union decades before it was actually established, a Ukip MEP has claimed.

Gerard Batten on Monday stepped up to defend Boris Johnson, who on Sunday attracted criticism for likening the EU's aims to those of Adolf Hitler.

Mr Batten however suggested Mr Johnson had actually underplayed the connections between the EU and the Nazis, and that the bloc had "closer links" with the fascists than many realized.

The eurosceptic MEP added that the first president of the European Commission had been "a member of several nominally Nazi professional organizations" and served in Adolf Hitler's army.

"In 1942 when the Germans still thought they were going to win the war they produced a report entitled the Europaische Wirtschafts Gemeinschaft – which translates as the European Economic Community," he wrote in a post on his blog.

"This report was written by various bankers and academics and laid out a plan for how Germany would manage the economies of the conquered countries of Europe after a German victory. The report was drawn up under the leadership of Professor Walter Funk the Reich's Economics Minister and President of the Reichsbank.

"The report contained sections on Agriculture, Industry, Employment, Transport, Trade, Economic Agreements, and Currency. It proposed the 'harmonisation' of European currencies and a harmonised currency system.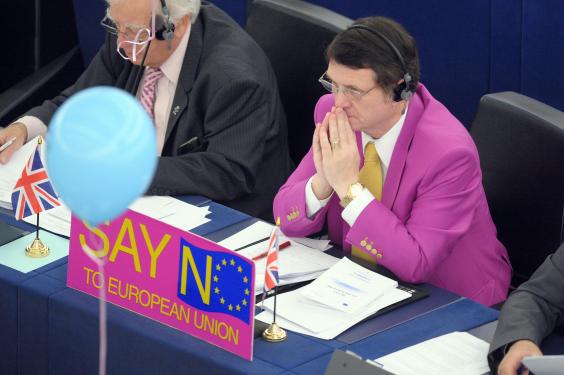 Gerard Batten in the European Parliament, where he represents London (FREDERICK FLORIN/AFP/Getty Images)

"If this all sounds all very familiar it is because the basic plan for the European Economic Community of 1942 was very similar to the actual European Economic Community that came into existence in 1957 under the Treaty of Rome."

Concluding, he said: "What emerged as the European Economic Community in 1957 was planned created by the kind of people who would have run Europe's economies if Germany had won the war, and their plans followed a very similar pattern."

Labour MP Chuka Umunna told the Independent the Leave camp was deploying "crackpot conspiracy theories" in lieu of explaining what Britain's role in the world would be outside the EU.

Credit to Independent.co.uk