An ominous report circulating in the Kremlin today prepared by the Ministry of Defense (MoD) states that President Putin has issued orders authorizing Federation military and intelligence forces to protect the Kurdish peoples of Turkey-Iraq-Syria against "all threats" and "at all costs" as these besieged peoples living in the Levant War Zone are now under "existential threat" of extermination by Turkey—and which is an action many in the West are warning may trigger the "war of the century".
According to this report, President Putin legally issued this order citing as his authority to do so Article 87 of the Constitution that gives him the title and power of being Supreme Commander-in-Chief of the Armed Forces of the Russian Federation, and by his further noting that this order "fully complies" with the "use of force" resolution unanimously passed by the Duma (Russian Parliament) this past September authorizing military-intelligence war actions against the Islamic State (ISIS/ISIL/Daesh).
With Turkey now being named as a "belligerent hostile threat" to the Federation in this conflict, this report further explains, President Putin in issuing his order also cited the Turkish governments material and financial support of Islamic State terrorists as evidenced by the MoD discovering this week 12,000 oil tankers and trucks on the Turkey-Iraq border carrying stolen petroleum wealth legally owned by Iraq and Syria.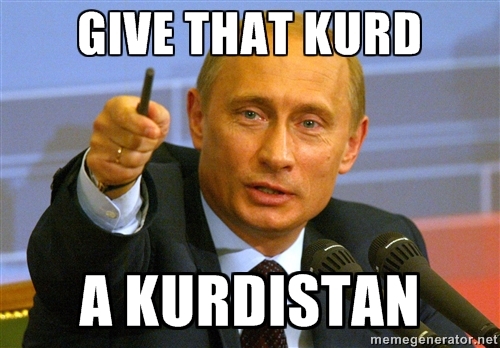 Siding with Turkey in committing this mass genocide against the Kurdish peoples though, this report continues, is the Obama regime whose State Department spokesman, John Kirby, this past week stated "while we understand Turkey's needs to take security measures, it should also take all feasible precautions to protect civilians and to act consistently with its legal obligations", but failed to order their NATO ally to stop their wanton killing and destruction.
And of the most shocking information about the murderous "terror-loving" Turkish regime revealed to the Kremlin by Demirtas, this report notes, was his proving the complicity of the Obama regime with Turkey in the shooting down on 24 November of a defenseless Aerospace Forces bomber over Syria—and which MoD spokesman Igor Konashenkov explained by stating:
"This confirms the fact that all information, which we transfer to the American side within the framework of the memorandum, has surely been handed over by the U.S. Air Force command to Turkey's General Staff. Thus, on 24 November, when a Turkish fighter jet treacherously attacked our Su-24 bomber with a missile, Turkey's General Staff was well aware of the time and the area where a pair of Russian bombers would carry out a combat task."
Also critical to note about President Putin's war order, this report says, is that prior to his issuing it he presented to the Gulf Cooperation Council (GCC) members Bahrain, Kuwait, Oman, Qatar, Saudi Arabia, and the United Arab Emirates a "grave warning" that should any of them continue in their current war actions supporting either Turkey or the Islamic State they would face immediate Federation retribution.
President Putin's warning was immediately replied to by the GCC just hours ago with their spokesman, Qatar's Foreign Minister Khaled bin Mohammad Al Attiyah, stating: "We are currently talking about exchanging information on movement of people and money. The topic of establishing armed forces in the framework of the Saudi-led coalition has not been discussed as of now. We are trying to concentrate our efforts on fighting against extremist ideology and our Islamic coalition is not working in the sphere of military actions of the US-led coalition."
Or put in its most simplistic terms quoting an old Russian proverb:
"If you invite a bear to dance, it's not you who decides when the dance is over. It's the bear."
http://www.eutimes.net/2015/12/putin-orders-military-to-protect-kurds-at-all-costs-as-war-of-the-century-nears/