Thursday, June 30, 2011


The worst drought in 60 years in the Horn of Africa has sparked a severe food crisis and high malnutrition rates, with parts of Kenya and Somalia experiencing pre-famine conditions, the UN said yesterday.

More than 10 million people are now affected in drought-stricken areas of Djibouti, Ethiopia, Kenya, Somalia and Uganda and the situation is deteriorating, it said. "Two consecutive poor rainy seasons have resulted in one of the driest years since 1950/51 in many pastoral zones," Elisabeth Byrs, spokeswoman of the UN Office for the Co-ordination of Humanitarian Affairs, said. "There is no likelihood of improvement [in the situation] until 2012," she added.

Food prices have risen substantially in the region, pushing many moderately poor households over the edge, she said. A UN map of food security in the eastern Horn of Africa shows large areas of central Kenya and Somalia in the "emergency" category, one phase before what the organisation classifies as catast-rophe/famine – the fifth and worst category.

Child malnutrition rates in the worst affected areas are more than double the emergency threshold of 15 per cent and are expected to rise, Ms Byrs said. High mortality rates among children are also reported.

Drought and fighting are driving ever greater numbers of Somalis from their homeland, with more than 20,000 arriving in Kenya in just the past two weeks, the UN refugee agency UNHCR said. It voiced alarm at the dramatic rise, noting the average monthly outflow had been about 10,000 so far this year.
The Independent
hostgator coupon 2011
Wednesday, June 29, 2011


Indian doctors have been accused of conducting sex change operations on young girls whose parents want sons to improve the family's income prospects.

Madhya Pradesh state government is investigating claims that up to 300 girls were surgically turned into boys in one city after their parents paid about £2,000 each for the operations.

Women's and children's rights campaigners denounced the practice as a "social madness" that made a "mockery of women in India".


India's gender balance has already been tilted in favour of boys by female foeticide – sex selection abortions - by families who fear the high marriage costs and dowries they may have to pay. There are now seven million more boys than girls aged under six in the country.

Campaigners said the use of surgery meant that girls were no longer safe even after birth.

The row emerged after newspapers disclosed children from throughout India were being operated on by doctors in Indore, Madhya Pradesh.

Doctors confronted in the investigation claimed that girls with genital abnormalities were being sent to the city's clinics to be "surgically corrected" and that only children born with both male and female sexual characteristics were eligible for the procedure. But campaigners said the parents and doctors were misindentifying the children's conditions to turn girls into boys.

The surgery, known as genitoplasty, fashions a penis from female organs, with the child being injected with male hormones to create a boy.

Dr V P Goswami, the president of the Indian Academy of Paediatrics in Indore, described the disclosures as shocking and warned parents that the procedure would leave their child impotent and infertile in adulthood.

"Genitoplasty is possible on a normal baby of both the sexes but later on these organs will not grow with the hormonal influence and this will lead to their infertility as well as their impotency. It is shocking news and we will be looking into it and taking corrective measures," he said. "Parents have to consider the social as well as the psychological impact of such procedures on the child."

India's National Commission for the Protection of Child Rights ordered the Madhya Pradesh government to investigate the claims and produce its findings within 15 days.

Ranjana Kumari, of the Centre for Social Research and one of India's leading campaigners against female foeticide, said the surgical transformation of girls into boys without their informed consent was a sign of India's growing "social madness".

The Telegraph


The Taliban has issued a chilling threat to carry out a series of attacks against 10 targets in Britain, American and France to avenge the death of Al Qaeda leader Osama bin Laden.

'Soon you will see attacks against America and Nato countries, and our first priorities in Europe will be France and Britain,' deputy Pakistani Taliban leader Wali-ur-Rehman said in a videotape aired on Al Arabiya over the weekend.

The Tehrik-e-Taliban (TTP), or Taliban Movement of Pakistan, which swears allegiance to Afghan Taliban leader Mullah Mohammad Omar, is blamed for many of the suicide bombings across the country and remains highly dangerous despite a series of army offensives against its strongholds in the north-west of the country, on the Afghan border.

It has not demonstrated an ability to stage sophisticated attacks in the West, however, and the TTP's one apparent bid to inflict carnage in the U.S. failed.

The group claimed responsibility for the botched car bomb attack in New York's Times Square last year.

But American intelligence agencies take it seriously. It was later added to the country's list of foreign terrorist organisations.

The video showed Rehman, described as more sober and experienced than other TTP leaders, flanked by armed followers walking through rough mountain terrain.

hostgator coupon 2011


A SPOOKY fog creeping slowly across Melbourne is a rare freak of nature, the weather bureau says.

The dense fog covered large sections of Melbourne and was affecting flights at Melbourne Airport.

Passengers are advised to check with their airlines or the Melbourne Airport website after a number of diversions and delays.

The fog was expected to cover much of the metropolitan area tonight, after visibility was reduced to 500m at Moorabbin Airport earlier this evening.

"So much fog, I can't even see if the tram is coming," one Twitter user wrote.

Another tweeted that the eerie sight looked "like Armageddon rolling in".

Read more: http://www.news.com.au/national/melbourne-hit-by-freaky-fog-that-looks-like-armageddon-rolling-in/story-e6frfkvr-1226083726777#ixzz1QfVuZYAS
hostgator coupon 2011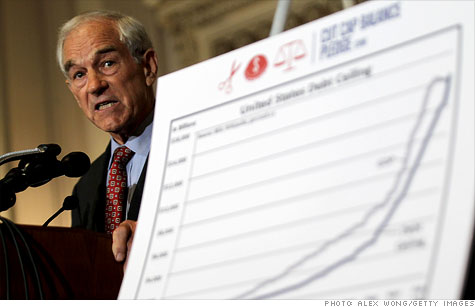 NEW YORK (CNNMoney) -- How should the United States deal with its growing debt problem? Ron Paul thinks declaring "bankruptcy" might be a good idea.

The Texas congressman and Republican presidential candidate was discussing Greece's fiscal trouble with Iowa radio host Jan Mickelson on Monday when he was asked, "If bankruptcy is the cure for Greece, is it also the cure for the United States?"

"Absolutely," Paul replied.

Of course, sovereign nations can't declare bankruptcy the same way a corporation might. Instead, the government would be unable to fulfill its obligations, and would stop making payments on its debt, resulting in a default.

Greece is currently embroiled in a debate over how to pare back its social programs and government spending to secure another bailout for paying its debts.

Paul said social programs -- medical care and other benefits -- have pushed Greece to the edge, and the United States should take note.

"The big message there is the fact that the people who are seeing they are losing their benefits and their free medical care and all, are rioting in the streets," Paul said. "That is the problem, and we are not immune from that."
How Washington screwed up the budget

Paul held a hearing last week to grill federal officials about his bill to audit and inventory the nation's gold reserves.

The Texan is no fan of the Federal Reserve either, and suggested Monday the United States should eliminate the Fed as a way to reduce the deficit.
CNN
hostgator coupon 2011

MANILA, Philippines (AP) — Flash floods triggered by torrential rains have swept away dozens of houses in the southern Philippines and killed at least 11 people, most of them children.

Civil defense officer Fe Austria Kalimpo says eight of the victims were between the ages of 3 and 8. She says they drowned when heavy rains swamped five villages in Davao city late Tuesday, overflowing rivers and triggering a deluge that reached 10 feet (3 meters) high in some places.

The floodwaters subsided Wednesday but rescuers are still searching for at least 13 missing people.

Davao Mayor Sara Duterte says about 200 people lost their homes.

Floods in the northern Philippines earlier this week killed five people and left 10 missing.

hostgator coupon 2011
2 Peter 2:6 And turning the cities of Sodom and Gomorrha into ashes condemned them with an overthrow, making them an ensample unto those that after should live ungodly; (9) The Lord knoweth how to deliver the godly out of temptations, and to reserve the unjust unto the day of judgment to be punished:
Commentary
Seattle Sunday Pride Parade draws diverse crowds
06/26/11 As I read this article, all I could think of was the massive
Cascadia Subduction Zone Fault
which is right off the coast of Seattle. This fault is identical to the one that broke on March 11 off the coast of Japan. The Cascadia fault last ruptured in January 1700, and sent a massive tsunami to Japan. It can produce a 9.0 or greater earthquake. Seattle would be doomed.
I am convinced that as states like New York and Washington promote the homosexual agenda that God will time this with major disasters. The disaster will match the level of rebellion against His word.
"New York state's historic vote Friday to legalize gay marriage, coupled with the United Nations' resolution endorsing the rights of gay, lesbian and transgender people that passed earlier this month, added to the celebratory atmosphere.
Adam Rosencrantz, board president of parade sponsor Seattle Out and Proud, estimated crowds at 400,000, in excess of last year's 250,000."
Same-Sex Marriage Backed by 54% of New Yorkers
06/28/11 If this is true, there is no hope for New York. The state is spiritually dead and ready for judgment. Homosexual marriage shows just how dead this state is and judgment waiting it. The judgment will not be long as the LORD is not going to allow sodomite marriage. He will intervene with judgment.
"Over a hundred years ago, a magnitude 5.1 earthquake struck where JFK stands today. The tremor lasted no more than several seconds, but it managed to liquefy soil in Queens and Brooklyn, causing beach houses on Coney Island to tilt and chimneys to crumble. Home owners as far away as Pennsylvania reported cracked walls and fallen bricks."
***

Hillary: State Dept. 'Instrumental in Sealing Deal' For Lady Gaga's Gay Pride Gig in Rome

06/27/11

The State Department is now a vector for promoting sodomy throughout the world. This is one more sign that awesome judgment is coming to America to stop this purveying of sodomy throughout the world. What a national disgrace the State Department has become with bullying Israel and promoting sodomy.
"Secretary of State Hillary Clinton said on Monday that the State Department played an instrumental role in "sealing the deal" for pop-rock star Lady Gaga to perform at a gay pride rally in Rome, Italy.
Clinton specifically pointed to a letter that David Thorne, the U.S. ambassador to Italy, sent to Lady Gaga urging her to participate in the event."
Dollar seen losing global reserve status
06/27/11

This article was headlines with the US State Department promoting sodomy world-wide! God is in the process of draining everything out of America and turning it into a debt ridden third-world country. It is happening right before out eyes. The promoting of sodomy shows just how dead the nation is. As an American this is disgusting and embarrassing.
"The US dollar will lose its status as the global reserve currency over the next 25 years, according to a survey of central bank reserve managers who collectively control more than $8,000bn. More than half the managers, who were polled by UBS, predicted that the dollar would be replaced by a portfolio of currencies within the next 25 years. That marks a departure from previous years, when the central bank reserve managers have said the dollar would retain its status as the sole reserve currency."
Hillary Clinton: More Work Is Needed For Gay Rights
06/27/11
(Video)
'Hoping for the best': Firefighters battle blaze at edge of Los Alamos nuclear complex
06/28/11 Massive fires in the West with no end in sight. Gay Pride Month is going to end with massive fires in the West along with the intense drought which is destroying the food supply.
Ft Calhoun nuclear plant swamped as Flood berm collapses06/26/11 Gay Pride Month will end with massive floods also in the West. Floods, fires and drought all at the same time. As the nation advances the sodomite agenda the floods, fires, droughts, etc. are going to get worse, much worse. The judgment will match the level of national rebellion.
With the church on the sidelines there is no hope for the nation. Until the true churches rises in repentance, there is NO hope for America. There is very little time left.
Jude 1:7 Even as Sodom and Gomorrha, and the cities about them in like manner, giving themselves over to fornication, and going after strange flesh, are set forth for an example, suffering the vengeance of eternal fire.
hostgator coupon 2011

Turkish officials have told Western countries that Turkey might launch a military operation in Syria's north to overthrow President Bashar al-Assad's regime, a Kuwaiti newspaper reported on Monday.

"Turkey informed Britain, France, Italy, Germany and the North Atlantic Treaty Organization (NATO) leadership of the possibility that it would launch an offensive in … Aleppo, Homs, Hama and Latakia," As-Seyassah daily quoted an unnamed British officials as saying, according to the Lebanese news website nowlebanon.com.

The report comes amid fears of undesired confrontation between the Turkish and Syrian armies along the border. About 12,000 Syrians have fled their homes in northern towns and have taken refuge on the Turkish side of the border. The Syrian army is reportedly reinforcing troops near the Turkish border to prevent further inflows of refugees towards Turkey. The Turkish military is also reportedly considering reinforcing border troops. Senior Turkish commanders have recently traveled to the border province of Hatay to inspect the border area.

"Turkish officials fear the possibility of the Syrian army committing mistakes on its borders, which might oblige the Turkish army to cross the Syrian border," the Kuwaiti daily quoted a Lebanese diplomat in Ankara as saying. The Syrian government's brutal crackdown on anti-regime protesters has brought once-close Turkish-Syrian relations to a breaking point, with Prime Minister Recep Tayyip Erdoğan describing the Syrian response to protests as "savagery."
Earlier, a columnist for Lebanese daily al-Akhbar, said to be close to Hezbollah, claimed that Iran had threatened Turkey that if it were to be used as a platform for NATO action against Syria, then Iran would bomb US and NATO bases in Turkey. A columnist for the newspaper also said Iran sees the preservation of the Syrian regime as the preservation of the Iranian and Lebanese governments.
Tuesday, June 28, 2011


After a deadly confrontation a year ago, a new aid flotilla is planning a voyage to the Hamas-ruled Gaza Strip, which is under Israeli economic blockade. The trip could come this week and tensions are building.

Israel's Security Cabinet on Monday issued a stern warning to pro-Palestinian activists planning an aid flotilla to blockaded Gaza in the coming days.

Deputy Prime Minister Moshe Ya'alon told Israel Radio that the flotilla is a provocation and it will be intercepted by the Israeli navy.

The Cabinet said Israel hopes to spare human lives in its enforcement and wants to avoid a repeat of a commando raid on a Gaza flotilla a year ago. The botched raid, in which nine pro-Palestinian activists were killed, sparked international outrage.

Israel says the continuing blockade is necessary to keep weapons from reaching the Palestinian militant group Hamas that rules Gaza. It says the ships can dock in Israeli or Egyptian ports and their cargo can be transferred to Gaza legally over land.

The flotilla is expected to set sail from several European ports. Cyprus, used as a launch pad for earlier voyages, has banned aid groups from sailing from its shores.

At a news conference in Athens on Monday, flotilla organizers said they would not be intimidated by Israeli threats. They said 10 boats and two cargo vessels loaded with aid supplies soon would sail to Gaza and try to run the blockade, which they described as illegal and immoral.

American activist Ann Wright is a former official of the U.S. State Department who will take part.

"We say to the people of Gaza, we are coming!" she said.

Hundreds of people will be on board the flotilla, including journalists, politicians, writers and religious figures.

The United States and United Nations have urged flotilla organizers to use established channels to deliver aid to Gaza, drawing an angry response from Palestinian-American activist Huwaida Arraf, a flotilla participant speaking at the Athens press conference.

"We say shame on you [cheering]. For you ignore our fundamental rights, a right of all people to be free," said Arraf.
Israeli authorities on Monday rescinded a threat to bar journalists on the flotilla from entering the country for 10 years, after the Foreign Press Association in Jerusalem questioned Israel's commitment to freedom of the press.
New Yorkers want some history? how about this:

Genesis 19:4-15 (King James Version)

4But before they lay down, the men of the city, even the men of Sodom, compassed the house round, both old and young, all the people from every quarter:

5And they called unto Lot, and said unto him, Where are the men which came in to thee this night? bring them out unto us, that we may know them.

6And Lot went out at the door unto them, and shut the door after him,

7And said, I pray you, brethren, do not so wickedly.

8Behold now, I have two daughters which have not known man; let me, I pray you, bring them out unto you, and do ye to them as is good in your eyes: only unto these men do nothing; for therefore came they under the shadow of my roof.

9And they said, Stand back. And they said again, This one fellow came in to sojourn, and he will needs be a judge: now will we deal worse with thee, than with them. And they pressed sore upon the man, even Lot, and came near to break the door.

10But the men put forth their hand, and pulled Lot into the house to them, and shut to the door.

11And they smote the men that were at the door of the house with blindness, both small and great: so that they wearied themselves to find the door.

12And the men said unto Lot, Hast thou here any besides? son in law, and thy sons, and thy daughters, and whatsoever thou hast in the city, bring them out of this place:

13For we will destroy this place, because the cry of them is waxen great before the face of the LORD; and the LORD hath sent us to destroy it.

14And Lot went out, and spake unto his sons in law, which married his daughters, and said, Up, get you out of this place; for the LORD will destroy this city. But he seemed as one that mocked unto his sons in law.

15And when the morning arose, then the angels hastened Lot, saying, Arise, take thy wife, and thy two daughters, which are here; lest thou be consumed in the iniquity of the city.



ALBANY - New York made history last night by becoming

the sixth

and largest state to legalize gay marriage.

The state Senate passed the bill by a 33-29 margin and Gov. Cuomo quickly signed it five minutes before midnight.

Now, the rush to the altar can begin in 30 days when the law takes effect.

"This state, when it's at its finest, is a beacon for social justice," said Cuomo, who spearheaded the effort. "We reached a new level of social justice this evening."
Read more: http://www.nydailynews.com/news/politics/2011/06/24/2011-06-24_gay_marriage_legal_in_new_york_state_after_senate_passes_historic_bill_.html#ixzz1QTgazrQi
hostgator coupon 2011