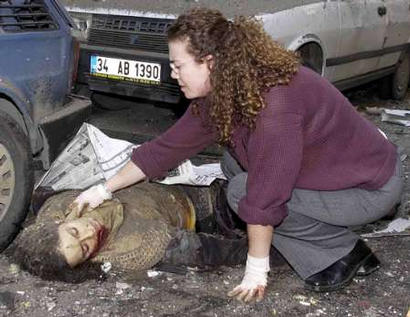 If you are a Christian living in Turkey,

you need to leave right now

. Your life may depend on it.
In a recent story, a church was destroyed by pro-Erdogan Muslims. Christians on the ground are reporting that both the government and local Imams are encouraging attacks against Christians and heterodox Muslims in the name of purifying Islam and 'defending' Turkey:
For others the night presented different opportunities as hardline Muslim Sunnis, whipped up to a frenzy, targeted Turkey's Christian community.

In Matalya, a sprawling city in Anatolia, once the heartland of Christianity in the East, they targeted a Protestant church.

The word church is a grand term for the small, modern shopfront nestled in the city's minority Alevi district.
For, despite a tolerant constitution, Protestants are not allowed to build churches in Turkey. Even the name church must be coupled to the non-threatening "association".

Gangs chanting "Allahu akbar" rounded on it to smash its glass frontage. "The attack on the church was light. But it's significant that it was the only shopfront attack in those three days," said its minister, Pastor Tim Stone, last night. "We were the only targets."

Nor was Matalya alone. In the Black Sea city of Trabzon others attacked the Santa Maria church, smashing windows and using hammers to break down its door.

The events of that Saturday night were not new for either city. In 2007, three Christian employees of a publishing house for bibles in Malatya were attacked. After being tortured, their hands and feet were tied and their throats cut by five Muslim assailants.

The minister in charge is directly appointed by the president. And it is a sermon written by department chiefs that imams read out on Fridays. One sermon warned that Turks should not befriend Jewish people or Christians because they serve the West.

"There's no doubt that the government uses the mosques to get its message across to its grassroots supporters," said Mr Kabakci. "There's is an atmosphere in Turkey right now that anyone who isn't Sunni is a threat to the stability of the nation" he added.

"Even the educated classes here don't associate personally with Jews or Christians. It's more than suspicion. It's a case of 'let's get rid of anyone who isn't Sunni'." (source)
This incident is a foretelling of what will happen in the near future: a repeat of the Ottoman massacres of Christians of 1917.
Turkey has a long history of murdering Christians going back to the first says that the then-pagan Turks rode down from the Altaic plains and into the Anatolian peninsula. They have never embraced Christianity in mass, but did so consistently for Islam, and they see themselves as both the guardian of Islam and even more Arabized than the very Arab peoples themselves. The Turk is the temporal menace who serves the Mohammedan demon and as such his hatred of Christianity is as overpowering as it is unnatural. Once temporarily stopped during the early 20th century, the Turk has embraced his old ways again and is planning yet another massacre of Christians as he has done in the past.
Ask the Armenians, Assyrians, and Greeks who had and still do live in and around Turkey, and they will tell you the same: Christians, get out while you still can.